Pastor Jim and Gina Brummett
Pastor Jim Brummett is a second-generation minister who received his formal training from Southwestern Assemblies of God University and Assemblies of God Theological Seminary. He has served congregations in worship, youth ministry and Christian education. Jim and his wife Gina, who serves as Administration Assistant and Women's Ministry Director, have two grown children and are proud grandparents.
Throughout their 25 years of leadership at Southwest Assembly of God, Jim and Gina have helped people discover an authentic relationship with their Creator and grow in a purposeful relationship with Him. They believe that God's promises are for everyone!
---
Church Board:
David Chapin
Brian Lawson
Loyd Hoskins
Jerry Bennett
Sheri Zamora
Jim Brummett
---
Departmental Programs and Leaders: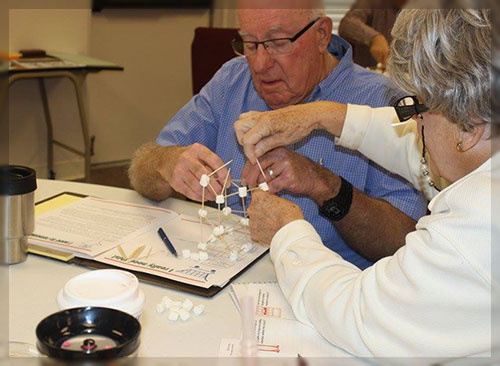 Royal Rangers – David Chapin
MPact Girls' Club – Denise Rouse
Youth and Young Adult Pastor – Michael Mele
Worship Leader – Tom Zielbauer
Second Halfers (Seniors' Fellowship and Outreach) – Loyd and Rita Hoskins
Men's Ministries Leader – Tom Bradow
Women's Ministries Coordinator – Gina Brummett
Administrative Assistant – Gina Brummett
Simply stated, our purpose is to know Christ and to make him known. We do this by our commitment to study and apply scripture, service to our community, and support for our missions projects in the United States and around the world.
What We Value. . .
Impassioned Prayer
We have a relationship with Christ through prayer which involves listening to Him.
Biblical Exploration
Through reading, searching and studying scriptures, we gain an accurate knowledge of the truth of God's Word.
Spiritual Transformation
We respond to God's voice, continually allowing Him to change us. As we spend time in His presence, we become more like Him.
Supportive Connections
Friendships can be found in our church with people who genuinely care about your needs.
Sharing Hope
In a world of confusion and fear, answers can be found through the love of Jesus in our caring church.
Building Relationships
No one here is a stranger; we are all family! Deep relationships can be enjoyed and nurtured if we are willing to reach out to each other.
Meeting Needs
We use our time, talents and personal resources for sharing Christ's love in our church, our community and beyond.
Inspiring Growth
Our inclusive worship and Bible studies are designed to build and encourage your spiritual and physical journey through life.