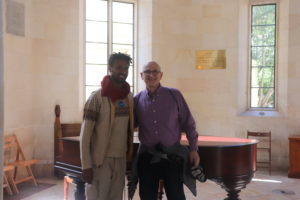 Earlier this month, Gina and I flew to Israel. To say our experience was amazing would be an understatement. We would like to share a portion of that experience with you in our morning visit over the next few days.
Day One: City of Jerusalem
Our first morning in Jerusalem, we walked into the old city of Jerusalem through the Jaffa Gate. Herod's Royal Palace was immediately on our right. It is likely the place where Herod Antipas interrogated Jesus on the night of His trial (Luke 23). Stones at the base of the palace date back to the time of Christ. If only those stones could talk!
Directly across the street was Christ Church, founded 170 years ago and is the oldest Protestant Church in all the Middle East. As we entered the church we were struck by the beautiful architecture, the stained glass windows and stone walls. On one of the walls was the Apostle's Creed engraved in Hebrew. We visited with one of the employees who had been a part of the congregation our cousins Scott and Laura planted a few years ago. He invited Gina and me sing. I sat at the beautiful black grand piano and we sang Amazing Grace and we wondered at all the songs and sermons that had been presented in that church through the years. (Listen to the acoustics in this beautiful sanctuary!)
"We are surrounded by a great cloud of witnesses" (Hebrews 12:1). The witnesses referenced were the multitude of first-century followers of Christ who had lived and died in faith. At the time of the writing, persecution of Christians was intensifying and many followers of Christ were considering leaving the faith and returning to Judaism. The author encouraged them to remain committed in their faith: "…let us run with endurance the race that is set before us, looking to Jesus, the author and finisher of our faith, who for the joy that was set before Him endured the cross, despising the shame, and has sat down at the right hand of the throne of God."
As Gina and I sang in Christ Church I envisioned the many followers of Christ who worshipped as part of that congregation for the better part of two centuries. If only those walls could talk!
My friends let me courage you to remain firm in your resolve to serve and worship our Lord. Consider our Lord who ran His race, endured the cross and today is seated at the right hand of God the Father. Consider the many who have gone before us as well as the many who are watching to see how we will respond to the challenges of our day.
Let's sing: "It will be worth it all when we see Jesus…"