Dec
5
Sat
Cookies, Cider & Christmas "Auction"
Dec 5 @ 2:00 pm – 4:00 pm
Ladies, we know you're ready for a light-hearted celebration!  Our December 5th gathering will be a fun way to kick off the long-awaited season!
We'll serve individually packaged goodies, along with tea, cocoa and cider.  And for entertainment, we will hold a Christmas Auction!
Here's how the auction will work:  Everyone is invited to bring one or two holiday items that fit the category of decorating or entertaining – no food please, but we suggest wrapping paper, candles, ornaments, holiday paper goods i.e. napkins, plates, etc.   Remember, this is not a fund raiser, and we are not exchanging real money!  Everyone receives play money as they arrive, and they can bid (and outbid) for the items they want to take home.
And on the serious side, at the party we will distribute One-a-Week mugs, which are part of our ongoing missions project.
We look forward to a great, casual afternoon where we can catch up on conversation and welcome the Christmas season!
YOUNG ADULTS
Dec 5 @ 6:00 pm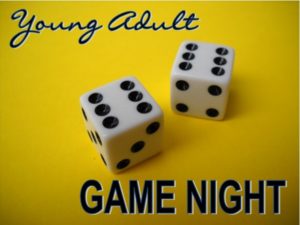 We will gather at church for some friendly competition and lots of laughs!  Feel free to bring a favorite game and snacks for sharing.
Info:  Michael Mele, 720-413-8579
Dec
12
Sat
LUNCH – 2ND HALF ADULT MINISTRY
Dec 12 @ 11:00 am
"SECOND HALF ADULT MINISTRY" (50+), led by Jerry & Mary Ann Bennett, gathers for lunch and fellowship on the second Saturday at 12 noon.
This casual gathering meets in the church fellowship hall, with plenty of opportunity for conversation and laughter and a brief program.  For safety, everyone is currently bringing their own box/bag lunch and drink.
NOTE: Please watch the church bulletin and social media for updates.